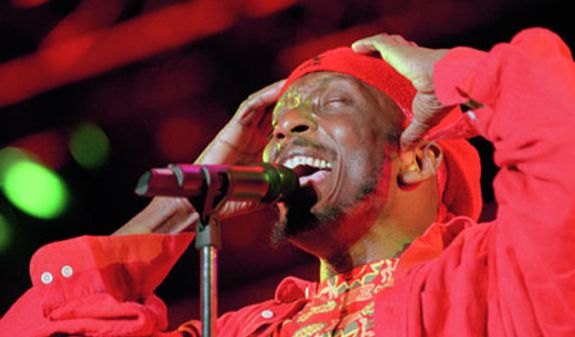 Jimmy Cliff in concert.
I've heard the question asked many times, "Are there any good reggae shows coming to town?" This is a prevailing query no matter what city one may be traveling. Up until the mid 90s traveling tours such as "Sunsplash" and others were highly anticipated events across America. Since then large outdoor reggae fests have slowed considerably. What happened?
As an artist I have toured many times and fully understand the business side of things. With that said, if live reggae is going to survive in America, we have to understand certain dynamics, (1) Reggae is not as popular as r&b, blues, country, rock or even jazz in America. (2) The reggae promoters that care about reggae artists and the message of the music are often smaller and undercapitalized.
I also suggest a network of promoters to offer aid when fellow promoters experience financial challenges. Assuring that live reggae events succeed will help preserve the image of the industry in which they all seek to thrive.
In light of the above mentioned dynamics, I believe that small promoters and musicians alike should be open to creating partnerships and relationships that keep both alive.
 And just another small note of observation, we as artists must minimize the degree of difficulty allowing smaller promoters to work with us; For example, when you are stateside have your management team seek out promoters, because they do not have to worry about international flights and visa issues. Smaller promoters simply cannot navigate those waters. Being stateside dramatically increase working opportunities.  Also, travel with only the personnel you need, this is not a party, you are at work. And please make it a mandate that everyone that you travel with extend the highest courtesy to everyone involved, of course, expecting the same from the staff of promoters as well. We must keep in mind that as artists share information about promoters, they (promoters) also share information with their peers. Simply put, no more rudeness to the group that is providing our bread as we tour. Remember, another artist could have easily been chosen. There are already so few American promoters that are still willing to invest in live reggae music, so artists should work to preserve these precious relationships. I know many of my fellow artists will counter that business has been done a certain way for years; and I reply that we must recognize the times in which we live and acknowledge that there are times that call for a reevaluation of how we conduct business. This is such a time.
On the other side of that coin many artists, including myself, have ventured out and trusted small and for that matter, large promoters to honor contracts, and they have come short for a number of reasons. But we must weigh each experience on its on merits. I recommend we try and get to know promoters and their intent other than making money. Trust me; although there are thousands of artists, many promoters take time to get to know us, our demeanor, our music and our ability to draw. Artists should to do the same and make a thorough effort to learn more about promoters.  I'm merely saying that if live reggae is to again flourish, especially in such a tough economy, we as artists should look closer at working with smaller promoters that actually care about our industry.
And on another note for another day
I argue that reggae has not effectively transformed its musical image from the deserving presence of the late great Bob Marley. And not that it has too; for Bob Marley will forever be the recognized as the king of reggae music; this is evident by the number of his albums that are still jumping off shelves and being downloaded today.  But I bring my point to light by using the example of the NBA moving on without Michael Jordan. When Jordan retired the NBA got fast about the business of preserving the game and creating other entities to soften the loss. And trust me I'm full aware of Mr. Marley's worth to millions of Jamaicans and others that love him and his music the world over. In short, Bob Marley was much more than a musician, he was a movement.
But using the NBA as an analysis, I heard some people say they could not bring themselves to watch professional basketball after Jordan retired. Reggae music is likewise an industry that needs to be preserved and the music must be marketed as a living breathing entity, not just attached to one individual. Certainly Bob Marley, Peter Tosh, Bunny Wailer, Dennis Brown, Jimmy Cliff (pictured above) and many, many others were incredible trailblazers of this powerful genre. But social, political and economic oppression is still the order of the day; and thus to be as effective as it were in the 70s and early 80s, the music must effectively set the stage for its new stars and also get back to the consciousness that bore it.. In fact, the burden of the social-political message is so heavy; it will take many reggae artists to carry it. That burden has rested long enough on the shoulders of Robert Nesta Marley.
I offer this article for perspective and welcome your dialogue on things that can be done by both artists and promoters to forward live reggae music in the United States.
Jah Bless