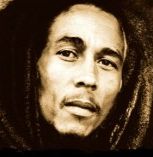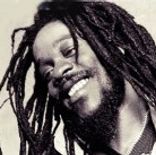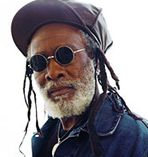 (L-R) Bob Marley, Dennis Brown and Burning Spear.
Roots reggae is a subgenre of reggae that deals with the everyday lives and aspirations of the artists concerned, including the spiritual side of Rastafari and with the honoring of God, called Jah by rastafarians. It also is identified with the life of the ghetto sufferer and the rural poor. Lyrical themes include spirituality and religion, poverty, cultural pride, social issues, resistance to government and racial oppression as well as repatriation to Africa.
The increasing influence of the Rastafari movement after the visit of Haile Selassie to Jamaica in 1966 played a major part in the development of roots reggae, with spiritual themes becoming more common in reggae lyrics in the late 1960s. Important early roots reggae releases included Winston Holness' "Blood & Fire (1970) and Yabby You's "Conquering Lion" (1972). Political unrest also played its part, with the 1972 election campaign of Michael Manley targeting the support of Jamaica's ghetto communities. Increasing violence associated with the opposing political parties was also a common lyrical theme, with tracks such as Junior Murvin's "Police & Thieves" and Culture's "Two Sevens Clash".
The heyday of roots reggae is usually considered the latter half of the 1070s - with singers such as Johnny Clarke, Cornell Campbell, Bob Marley, Peter Tosh, Burning Spear, Max Romeo, Horace Andy, Hugh Mundell, and Lincoln Thompson, and groups like Black Uhuru, Steel Pulse, Isreal Vibration, The Gladiators and Culture -- teaming up with producers such as Lee 'Scratch' Perry, Bunny Lee, Joseph Hoo Kim and Coxsone Dodd. The experimental pioneering of such producers within often-restricted technological parameters gave birth to dub, and is seen by some music historians as one of the earliest (albeit analogue) contributions to modern dance music production techniques.
Roots reggae also became very popular in Europe in the 1970s, especially among left-wing white youths in Western Europe. The Wailers' popularity in Europe opened the door for other artists, and roots reggae artists became popular with punk rock fans. When Jamaicans turned to dancehall, a lot of black, white and mixed roots reggae bands were formed in Europe. Later on roots reggae also made its way into the United States with the mass migration of Jamaicans to New York. This took place with the reforms made to American immigration laws in the early 1960s. Along with localized traditions and food, reggae music was inevitably brought as well, contributing to the New York City soundscape.
While roots reggae was largely overtaken in popularity in Jamaica by dancehall, several artists from the original era, such as Culture, Burning Spear and Isreal Vibration continued to produce roots reggae and artists like Beres Hammond and Freddie McGregor continued the use of roots reggae, as a musical style and thematically, through the 1980s. In the 1990s younger Jamaican artists became interested in the Rastafari movement and began incorporating roots themes into their music. Most notable among the new generation of "conscious" artists was the late Garnett Silk, who's positive spiritual message and consistent use of roots and rock steady riddims gave him cross generational appeal with Caribbean audiences. And until his untimely and tragic death, South African Lucky Dube garnered international fame for his conscious lyrics. Other notable dancehall stars like Capleton and Buju Banton became devout Rastas and changed their musical direction as a result. Other modern roots artists and bands also emerged at this time, Luciano, Osezua, Junior Kelly and Morgan Heritage, among many.